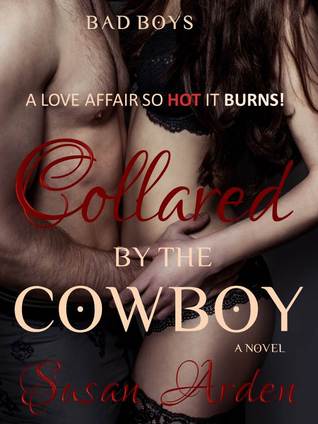 Genre: Steamy Romance
Publisher: Silver Sprocket Publishing
Publication Date: March 14, 2014
Links: Goodreads
Star Rating:
The following story is intended for an adult audience and contains mature themes, strong language including graphically detailed sex, violence, and drug use portrayed in a fictional setting.

The room at the end of the hall in Spurs & Leather, a private club in Paris hasn't seen any action of late. Brandon as head Dom locked the doors after his last lover burned him good. Diving into his work at Evermore Ranch, he's got his hands filled with taming wild horses until a red-leather wearing woman crosses his path. Tempted back into the saddle, he sets his sights on taming a different type of filly...one with a sassy little mouth, a mind of her own, and hot body that won't quit. He's got the goods, if she willing to let him take the lead both in and out of bed.

Last semester of grad school and all Mia needs is a stellar thesis that will skyrocket her chances of landing a therapist job somewhere far, far away from small towns and small minds. Case studies in female sexuality sure as hell aren't the ticket out of Texas and Mia sets her sights on learning all she can about why women enjoy being dominated--thank you fifty shades of I'm out of here by May! Undercover, she enters the secretive BDSM world within a club known to offer decadent delights. With one minor SNAFU: she becomes the target of the head Dom, a man with a reputation of equal parts bark and bite. When the door marked no is thrown open by one commanding cowboy, Mia can't resist temptation waiting on the other side.

Now, Mia is wearing Brandon's collar, calling him Sir, and loving every minute of being dominated by her powerful lover. Yet Mia can't have her cake and eat it too. Torn, she must decide if her future involves walking away from Brandon when her heart is telling her to stay, stay, stay.

This AAR was gifted to me for an honest review. Collared by a Cowboys if the fifth book in the Bad Boy Series written by Susan Arden. The book centers on Brandon, the Head Dom and part owner of the exclusive Spurs and Leather BDSM Club and Mia, a graduate student. Mia decides to conduct a case study on why some women want to be dominated. As a potential therapist, Mia is certain conducting this case study for her final research paper will serve as the basis for her graduate thesis. Her goals is to leave the small town of Paris Texas never to return. She makes an agreement with Brandon's business partner to research their BDSM club, with Brandon acting as her tour guide.

I'm not sure how understanding why some women like BDSM will help her become a better sex therapist, but okay.
Overall Impression of the Book:

The book was a mildly entertaining read, but nothing life changing. I will say this book is one of the better AARs I've read in a long time, so for that, I am grateful. I did not have a desire to stop reading the book, and was genuinely curious about how the story would end. With that being said, both the story and the characters were very forgettable. The plot of the book was extremely weak and there was no sense of urgency throughout the book until the last few chapters. I literally forgot about the character after I read the book, with the exception of the twins.

Characters:

Brandon was the average Alpha Male Cowboy. I did appreciate that he was a hard worker, running his club while also running his family's ranch. He was also very family orientated, which is something I liked. Other than that, he was nowhere near book boyfriend status. I wish the author would have put a little more context into his relationship with Val. The whole situation with his ex sub/girlfriend just didn't seemed earth shattering enough. She pretended to be his sub…okkaaay…so. Not to say he shouldn't be hurt, but I'm sure cheating on him with another Dom would have been way more devastating. Furthermore, I did not understand why Val hated him so much. It just didn't make sense to me.

Mia really irked my nerves. First of all, I could not understand why she was so determined to leave Paris, TX as if she could not be a therapist there. Now if she was offered her dream job in a different State, and had choose between her job and Brandon, I could understand her plight. That was not the case in this story. She had no "real plan" to go anywhere specific. She just wanted to leave Paris. Her ex-boyfriend Beau was probably one of the more interesting characters in the story, but I do not understand how he was such a good boyfriend, and just completely changed when he broke-up with her. He did not show any of these crazy man traits while they were in a relationship? And why on earth would he think he could treat her so badly because she was a little freaky in bed. I could see if you had multiple partners and he thought she was easy, but again, that was not the case in this story.

All-in-all, I did not hate the book, I did not love it either. I have no desire to read the previous four books in the series. I may try a new series with this author in the future if she can deliver a stronger plot and better character development.

This book is not a must read, but if you are bored one Saturday afternoon and want a book with some steamy love scenes, this may be the right book for you.